selling services and supporting stats
Services CPQ Supports Top Tech Companies
91% Increase
Quote to Order Velocity
Save 4-6 Weeks
By reducing your SOW creation time to just minutes.
Platform Overview
Take a Tour of WorkRails
WorkRails Services CPQ was built to make your life easier. From initial discovery to final approval, our platform automates all aspects of the service sales process—so you can sell faster and more accurately.
Explore the Platform
What Would You Do With Six Extra Weeks?
Assemble your services into an eCommerce-style catalog that you (or your customers) can search and filter through to make finding the right services easy.
Still Taking the Manual Approach to Selling Services?
Gone are the days of wasting time manually inputting into complicated spreadsheets to sell professional and managed services. To close more deals than you ever thought possible, you need the power of automation. You need WorkRails.
Services CPQ: Your All-in-One Service Selling Solution
WorkRails Services CPQ guides your sales teams all the way through the sales motion, from initial discovery all the way to final approval.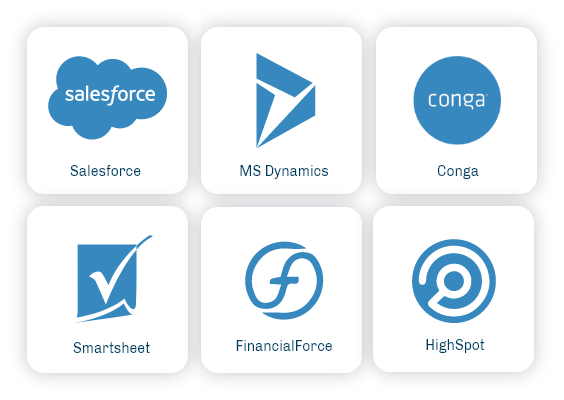 Sales Team Integration
Put Services CPQ On Your Existing Tech Stack
Connect to platforms you already know and love. Sync critical data from wherever you manage your team's workflow (Product CPQs, CRMs, PSAs, ERPs, etc). Whatever system you use, WorkRails Services CPQ integrates with it.
Here's What Our Clients Are Saying
The automation that WorkRails added to our Services Sales process allows us to generate accurate and visually pleasing custom SOWs with a few clicks and instantly create Opps, Orders, and Staffing, resulting in huge time savings for our team."
Krisztián Csobályka
R&D Post-Implementation Services Manager
, Veeva
No one is doing what WorkRails is doing. None of the other vendors we looked at were even close to what we could get with WorkRails. WorkRails has been a game changer for us."
Katie Carpenter
VP Professional Services
, Smarsh
WorkRails has helped us optimize how we interact with our customers. We have not only reduced the time it takes to get from customer request to signature, but we have also reclaimed valuable time once spent on manual processes. We can now devote that time to what counts—improving customer engagement and experience."
Bill Porter
Director of Professional Services
, Ceridian
Ready to Get To Work with WorkRails?
Find out how your team can increase revenue, reduce churn, and sell services faster by taking an eCommerce approach to selling services with WorkRails.